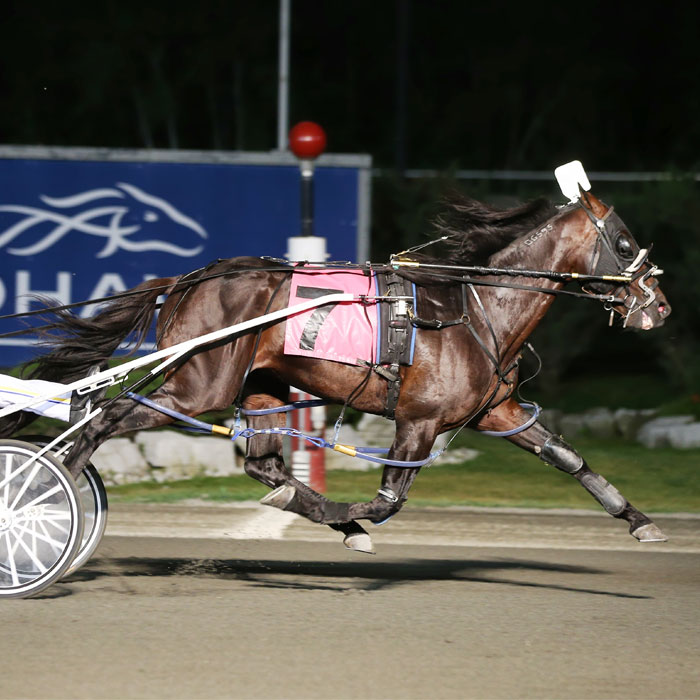 Bolt The Duer
p, 2, 1:51; 3, 1:47.4f ($1,828,995)
Half-brother to Shanghai Lil, p, 2, 1:51.2 ($1,068,402)
23x Winner
Kentucky Sire Stakes Champion at 2 & 3
At 2, Winner of Bluegrass Series & 2 Kentucky Sire Stakes legs & Final
At 3, Winner of Adios Final (becoming fastest horse on a five-eighths mile with 1:47.4 World Record), Cleveland Classic, John Simpson Memorial, 2 Kentucky Sire Stakes legs & Final (won Final in 1:48.2), Max Hempt elimination, Messenger Final & Preferred at The Meadows
Second in Adios elimination, Art Rooney Final, Little Brown Jug elimination & Max Hempt Final
At end of 3-year-old season was speed ranked #1 by the USTA over a tough crop of 3-year-old pacers including A Rocknroll Dance, Michael's Power, Pet Rock & Sweet Lou
At 4, Matched his Sophomore World Record becoming first horse to record 2 five-eighths mile records faster than 1:48
Winner of Ben Franklin Pace consolation, Canadian Pacing Derby elimination, Dan Patch Invitational & Joe Gerrity Jr. Memorial (equaled World Record with 1:49 Mile)
Second in Allerage Farms Stake, William Haughton Memorial & US Pacing Championship elimination & Final
As aged, Winner of Kane Invitational & Preferred at Pocono Downs
Raced against & beat A Rocknroll Dance, Pet Rock, Thinking Out Loud, Up The Credit, etc
Oldest foals are now yearlings

STUD FEE:
$4,000
Ponder
The Panderosa
Empty Feeling
Wonderbolt
Artsplace
Madam Christie
Links
TrackIt Pedigree
Booking Application
Hypothetical Mating (USTA)
Adios 1:47.4 (YouTube)
Gerrity Jr Memorial 1:49 (YouTube)
Cleveland Classic 1:51 (YouTube)
Dan Patch 1:49.3 (YouTube)
News
"Bolt The Duer's 1st crop yearlings are good looking with great conformation. They look like athletes," said James Ladwig, Winbak Yearling Manager

Crosses of Gold
Proven success with mares by these sires
Bolt The Duer's oldest foals are now yearlings.
Should be a great cross for mares sired by:
Abercrombie, Art Major, Artiscape, Beach Towel, Bettor's Delight, Cam's Card Shark, Cambest, Camluck, Dragon Again, Jenna's Beach Boy, Jate Lobell, Mach Three, Magical Mike, Matt's Scooter, Presidential Ball, Rocknroll Hanover, Somebeachsomewhere, Western Hanover and Western Ideal.