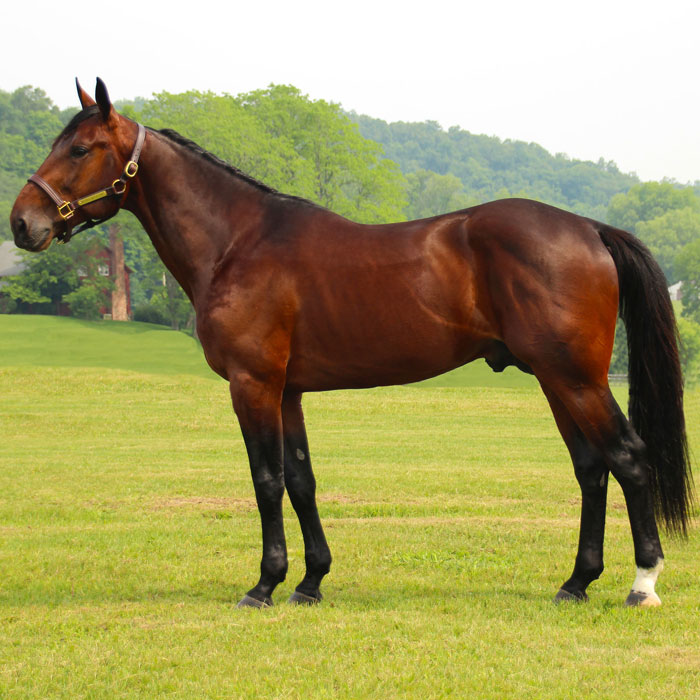 Heston Blue Chip
p, 2, 1:50.4f; 3, 1:48f ($1,781,881)
Richest son of top pacing stallion, American Ideal
Full-brother to Sunfire Blue Chip, p, 3, 1:48.3f ($1,476,940)
Family of Kikikatie, p, 3, 1:50.3 ($1,268,463)
34x Winner
Winner of USHWA Dan Patch Award for Three Year Old Pacing Colts against a tough crop that included A Rocknroll Dance, Bettor's Edge, Michael's Power, Sweet Lou & Thinking Out Loud
At 2, Winner of John Simpson Memorial, Matron Final, 7 NYSS Legs & Final & Tompkins-Geers
At 3, Winner of Breeders Crown elimination & Final (1:49.2)
As the Favorite in the Final beat Bettor's Edge, Michael's Power, Sweet Lou & Thinking Out Loud
Winner of Cane Pace elimination
Winner of Empire Breeders Classic elimination & Final (1:48.4)
Winner of Historic in a divisional track record at Tioga Downs of 1:49.2
Winner of Matron Final in lifetime best 1:48
Winner of Meadowlands Pace elimination
Winner of 4 NYSS Legs
Winner of Progress Pace elimination (1:49.3, last quarter 26.3) & Final (1:49)
Set track-records & divisional-records at Tioga Downs (1:49.2 & 1:48.4) & Dover Downs (lifetime best 1:48)
First Crop Yearlings Averaged $39,667 at Lexington
Oldest foals are now 2-year-olds
Already the Sire of:

Tompkins-Geers Winner, Zero Tolerance, p, 2, 1:51 -'18 ($392,891)
NY Excelsior Winner, Sun Viser, p, 2, 1:57.2h -'18 ($42,420)
NY Excelsior Winner, Justabitofcharm, p, 2, 1:54.4s -'18 ($21,630)
NY Excelsior Winner, Scott The Great, p, 2, 1:55.3s -'18 ($18,117)
MDSRSF Winner, Stay Beautiful, p, 2, 1:58.3h -'18 ($14,937)
NY Fair Winner, Hot Seat, p, 2, 2:02.4h -'18 ($13,677)
NY Fair Winner, Hestons Lucky Chip, p, 2, Q2:00.1s -'18 ($11,323)
As of 11/1/18
STUD FEE:
$6,000
American Ideal
Western Ideal
Lifetime Success
Shot Togo Bluechip
Cam's Card Shark
CCS Saleofcentury
Links
TrackIt Pedigree
Booking Application
NY Boarding Agreement PDF
Hypothetical Mating (USTA)
Breeders Crown 1:49.2 (YouTube)
Matron Stake 1:48 (YouTube)
New York Sire Stakes
News
"He (Heston Blue Chip 2-Year-Old) is very nice. I really like him at this point," said John Butenschoen, Trainer.
"You can bet...I'll be trying to buy some more of them. At this point, I like my colt as well as anything that I have had in the barn or have had last several years. He's a nice, big, strong and good-gaited colt. I wish now I owned more than just 25% of him," said John Butenschoen, Trainer.
"Heston Blue Chip's 1st Crop 2-Year-Olds are smart & have speed," said Blake Macintosh, Trainer.
"Heston's yearlings are great looking yearlings! They are nice and leggy with good size. His yearlings are well balanced with good conformation and good heads. They look like track stars," said James Ladwig, Winbak Farm Yearling Manager.
"Heston Blue Chip is the real deal," said Linda Toscano, Heston Blue Chip's trainer. "He was clearly the best New York Sire Stakes colt at two and three...setting multiple track records on all size tracks."
"In his Breeders Crown win, he beat the best of the best including Sweet Lou," said Toscano, "If that isn't enough, he's one of the kindest, nicest and happiest horses I've ever had the pleasure to work with."
"He's great gaited, wore no boots, and a 63" hopple," said Toscano.
"Heston had a great attitude. He wanted to win at high speeds and usually that transfers to a stallion's offspring," said Tim Tetrick, driver. "His offspring should do great if they have his attitude and desire."
"I really enjoyed racing Heston Blue Chip", said Tetrick. "From the first time I raced him in a baby race I knew he was going to be special, he raced great at 2 and 3, and he never let me down."
"He was a beautiful animal, big, strong and athletic on his feet, " said Tetrick. "He could leave the gate lightning fast. Heston was just super nice and raced good on all size tracks."
Heston Blue Chip Moves to PA for 2019 11/1/18
Zero Tolerance A Cut Above The Rest 9/10/18
Big Purse For NYSS Fillies Monday 9/7/18
Big things ahead for Zero Tolerance 8/14/18
Freshman MSRFS start at Ocean 7/30/18
More Freshmen At The Meadowlands 6/9/18
Heston Blue Chip Attracts Big Owner 12/14/17
Crosses of Gold
Proven success with mares by these sires
Oldest foals are now 2.
Should cross well with mares by:
Abercrombie, Allamerican Ingot,
Allamerican Native, Art Major, Artiscape,
Artsplace, Badlands Hanover, Beach Towel,
Blissfull Hall, Die Laughing, Dragon Again,
Falcons Future, Falcon Seelster,
Jenna's Beach Boy, Life Sign, Mach Three,
Magical Mike, No Nukes, No Pan Intended,
Rocknroll Hanover, Shadow Play,
Somebeachsomewhere, Village Jove
& Western Hanover